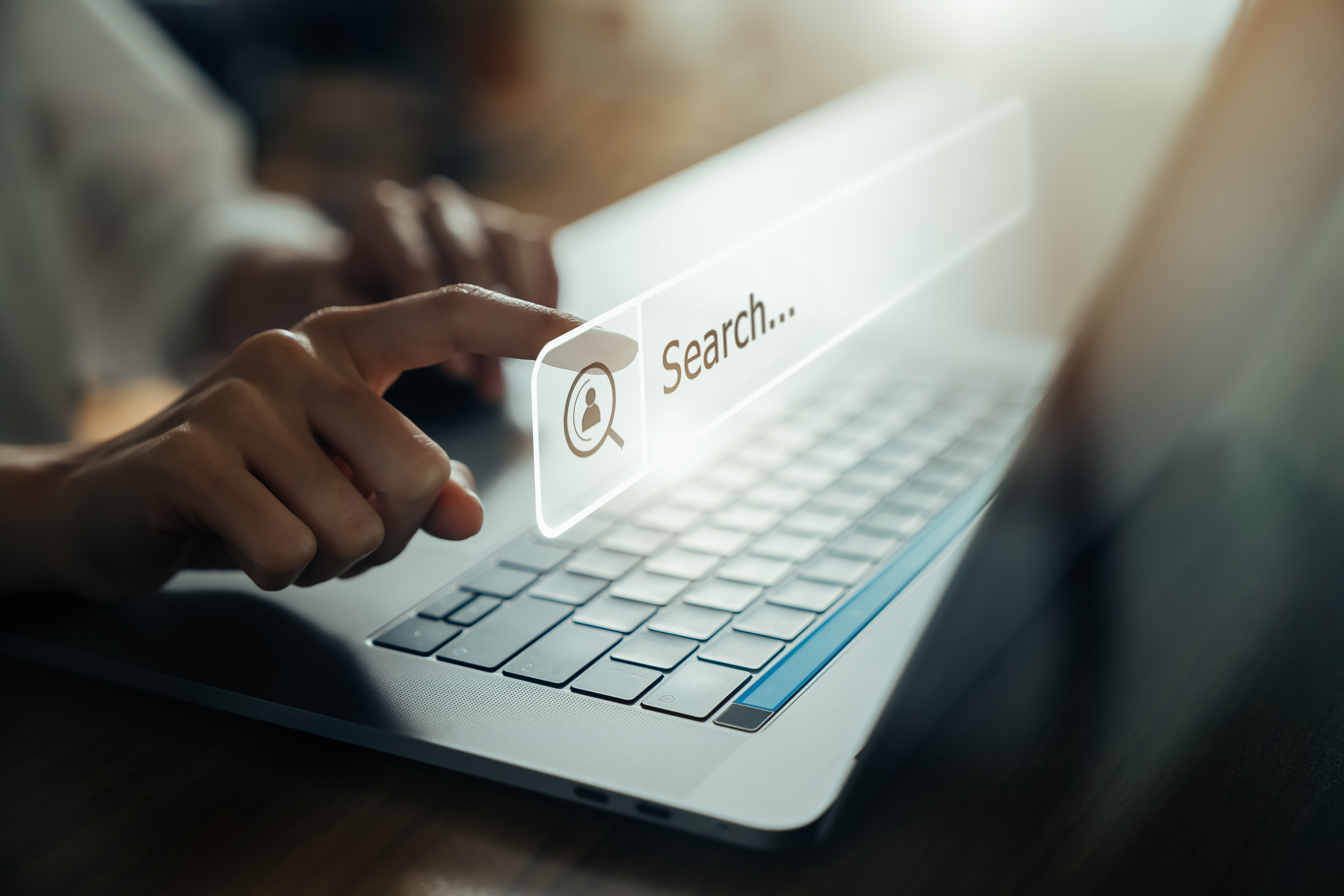 Learning about domain names
As an entrepreneur, it is essential that you have an online presence. A good domain name is therefore very important, and ensures that your customers can easily find you. A domain name is your unique name on the internet, simply put, it is the address of your website that people use to find you online. Domain names can also be used to create your own email address. This makes it easy to identify your websites and personal email addresses.
Discover more about domain names in this guide.
Step 1/10

Why should I register my domain name ?
There are several benefits to registering a domain name:
Every domain name is unique. Therefore, once you have registered your domain name, nobody else can claim this domain name anymore, provided that you keep paying the yearly fees to keep it.
You can valorise your domain name by selling or licensing it to other parties.
It improves the visibility of your website and therefore increases the number of visitors and boosts potential business.
Step 2/10

How do I obtain a domain name ?
Domain names are issued on a "first-come, first-served" basis and the registration procedure is quite simple, provided your chosen domain name is still available (you can check this here for .eu, here for .be and here for .nl extensions). If your domain name is still available, contact a registrar to register it for you. A registrar is a kind of dealer for domain names, who processes the transactions and provides support. Once you have registered a domain name, you will have the right to use it for a period of one year (this can be prolonged). It is also good practice to review your existing domain names from time to time, especially if you want to obtain new domain names when entering new markets.
Step 3/10

Do I need to have a working website to register a domain name ?
No, you do not need to have a working website to be able to register your domain name. This means that you can already reserve your domain name for the future by registering it in advance. Once you have registered your domain name, nobody else can claim this domain name anymore, provided that you keep paying the yearly renewal fees. This gives you plenty of time to think about how to build your website.
Step 4/10

How do I choose a domain name ?
A domain name must satisfy the general and technical conditions applied by the body that issues the domain name. In Belgium, the relevant body is DNS Belgium, in the Netherlands it is SIDN.
Also make sure you don't infringe any third-party rights, like trademarks or trade names. You can check this by consulting the Benelux Trademarks Register and TM view (an international trademark database) for trademarks. For trade names there is no register, so you'll have to check for example online or in folders.
Furthermore, choose a short and powerful domain name, try to make it easy to remember, write and pronounce.
As for the extension, the most common extension is .com. Extensions for countries, for example: .be, .nl, .fr, .eu,… are also popular. Using a country extension provides information about the location of the business, which can be important for certain entrepreneurs and businesses. You can also choose something more niche like .coffee, .pizza, .immo, … Keep in mind however that not all extensions cost the same.
Step 5/10

What if your domain name is already registered ?
First find out who registered the domain name: you can check this with a search via the competent registries (DNS for .be domain names, SIDN for .nl domain names and EURID for .eu domain names). Most registries will not publish the data of individuals, the data will only be given if a company registered the name.
If a domain name contains your trade name or trademark and the registration was done with the intention of violating your rights and obtaining a commercial advantage, the domain name was registered in bad faith. This is also known as "cybersquatting". This is the case when, for example, the domain name holder wishes to offer the domain name to you for a lot of money or when similar services or products are offered through the website which may mislead visitors. But don't worry, you can take action, either through an Alternative Dispute Resolution (ADR) procedure that most domain name registries offer, or, for some domain names, through a specific judicial procedure for unlawful registration. Note that and Alternative Dispute Resolution procedure is cheaper and easier than a judicial procedure. More information about these procedures can be found on the domain name registries' website.
If the domain name was not registered in bad faith, you can try to contact the domain name holder and ask them to sell the domain name to you, or, if that does not work, you can get creative and invent a new domain name.
Step 6/10

Who has to register the domain name ?
Register the domain name in the name of the company (or the managing director), not in the name of an employee. You do not want to lose control of the domain when that employee leaves the company.
Once you have registered your domain name, check your data immediately via the registries' 'WHOIS' search function to ensure that all data is correctly recorded, and keep it up to date.
Step 7/10

Which extensions should I choose for my domain name ?
Since websites are worldwide accessible, it can be interesting to register domain names in the countries in which you are active. After all, the preventive registration of domain names prevents potential competitors from taking over the name. You can also use the .com and .eu extension for a broader scope.
Step 8/10

How long does my domain name stay valid ?
A domain name is valid for as long as you satisfy the requirements of registration. These requirements may vary for each registrar. You will be able to renew your registration when the initial period of one year finishes by paying the renewal fees in time, and you will usually be alerted by the registrar to do so.
Step 9/10

How much does a domain name cost ?
It is normally quite cheap to register a new domain name, the price depends on the extension and registrar. Buying an existing domain name can be more expensive, since you have to settle with the original holder.
Step 10/10

What do I do if someone infringes my domain name ?
Although the same domain name cannot be registered twice, it is still recommended to regularly check that nobody has registered a domain name similar to yours that might infringe your rights. The sooner you find out, the sooner you can react.
Check whether or not the infringement was done in bad faith. If it was, you can start an alternative dispute resolution (ADR) procedure or sometimes even a judicial procedure to reclaim your domain name. You could also always try first to contact the domain name holder and ask them to sell the domain name to you (see step 5).
Want to know what to do next or need more information? Our partners can help you!